With its emphasis on its enlisted troops and its creed that every Marine is a rifleman, the Marine Corps is the military service that keeps the smallest ratio of brass to troops. But for a brief moment —actually only until Wednesday—there are, for the first time, six four-star generals in the Corps.

Earlier this month [April 19], the officers gathered at the Home of the Commandants at the Marine Barracks Washington, the only time six active-duty four star generals have gathered together, according to the service. Except for a handful of five-star admirals and generals in American history, four-stars is the highest attainable rank in the military. And for the Marines it is unusual to have four or five, much less six.

The Corps thinks of the gathering as historic. But for the generals, the April get-together was simply a reunion of a group of men who have worked with each other and off for four decades.

"It was a bunch of friends who started out as second lieutenants," said Gen. James Mattis. "We never thought we would end up as four stars. It is the surprise and twists and turns of life."

The Marine Corps can count on having two four stars at any one time: the commandant, currently Gen. James Amos, and the assistant commandant, currently Gen. John Paxton. In addition, the Marines currently have four joint force billets: the current and former Afghanistan commanders, Gen. Joseph Dunford and Gen. John Allen, the head of Southern Command, Gen. John Kelly, and the former head of Central Command, Gen. Mattis.

With Gen. Mattis due to take off his uniform in June and Gen. Allen formally retiring this week, the time of six four stars won't last long. And with the entire military poised to shrink with continuing budget cuts, it may not happen again for a long while.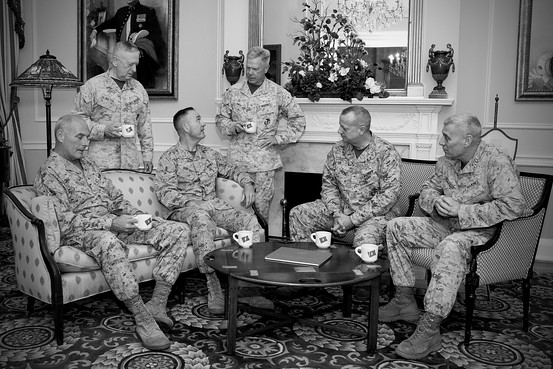 Dressed in their desert camouflage uniforms the six Marine four-star generals share coffee in the Home of the Commandants in Washington, D.C., April 19, 2013. From left to right:John F. Kelly,  James N. Mattis, Joseph F. Dunford, James F. Amos, John R. Allen, and John M. Paxton Jr. (U.S. Marine Corps photo illustration by Sgt. Mallory S. VanderSchans)