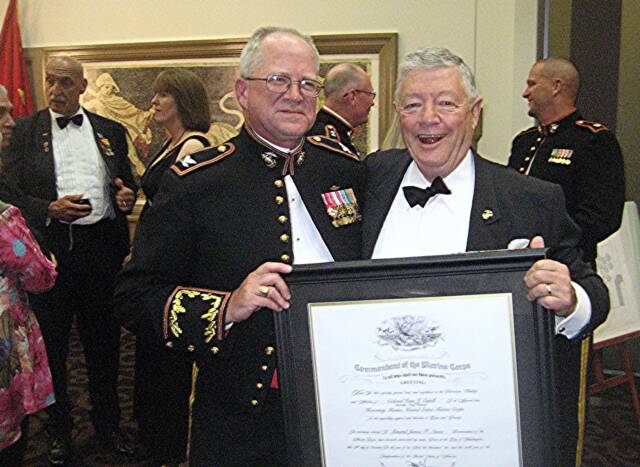 COL CG IKINS & COL CAHILL

"HONORARY MARINE."

.I'd like to share one story that embodies the intertwined history of the United States and Australia, as seen by the relationship of the U.S. Marines and Australian Army. 

In December of the year 1967, in the steamy jungles of Vietnam, communist forces had a foothold in the war-torn country.  Battles raged and the fighting came at a great cost in human life to the U.S., Australia, and allies.

Then Captain Ivan Cahill, Australian Army, was in command of U.S. Marines Company E, 2d Battalion, 3d Marine Regiment.  On 28 December Captain Cahill and his Marines landed by helicopter in the Dien Ban District, as part of Operation AUBURN. 

As soon as they landed, Captain Cahill's Company began taking small arms and automatic weapons fire from strong enemy forces to their front and to their flank.  As the volume of enemy fire increased, the success of the entire operation hung in the balance. 

Captain Cahill wasted no time.  With extraordinary coolness, he directed his Marines under fire and for the next several hours he commanded his Company while calling in air and artillery support. 

Caring not for his own personal safety, Captain Cahill courageously exposed himself to intense enemy fire again and again while moving about the battlefield and directing the actions of his Marines against the enemy. 

Captain Cahill's actions that day resulted in the death of over 30 enemy soldiers and allowed the landing zone to remain open for follow-on friendly forces, ultimately leading to the Battalion's successful accomplishment of their mission.  The United States awarded him the Bronze Star Medal for his heroic actions that day. 

Colonel-retired Cahill went on to have a magnificent career in his own right while serving in the Australian Army.  But in December of 1967 in the jungles of Vietnam he was a United States Marine Corps Company Commander.  He was regarded by all as worthy of wearing the title of United States Marine. 

Tonight, as we celebrate the 235th Birthday of our Corps, on behalf of the Commandant of the Marine Corps, it gives me great pleasure to bestow upon Colonel Cahill the title of "HONORARY MARINE."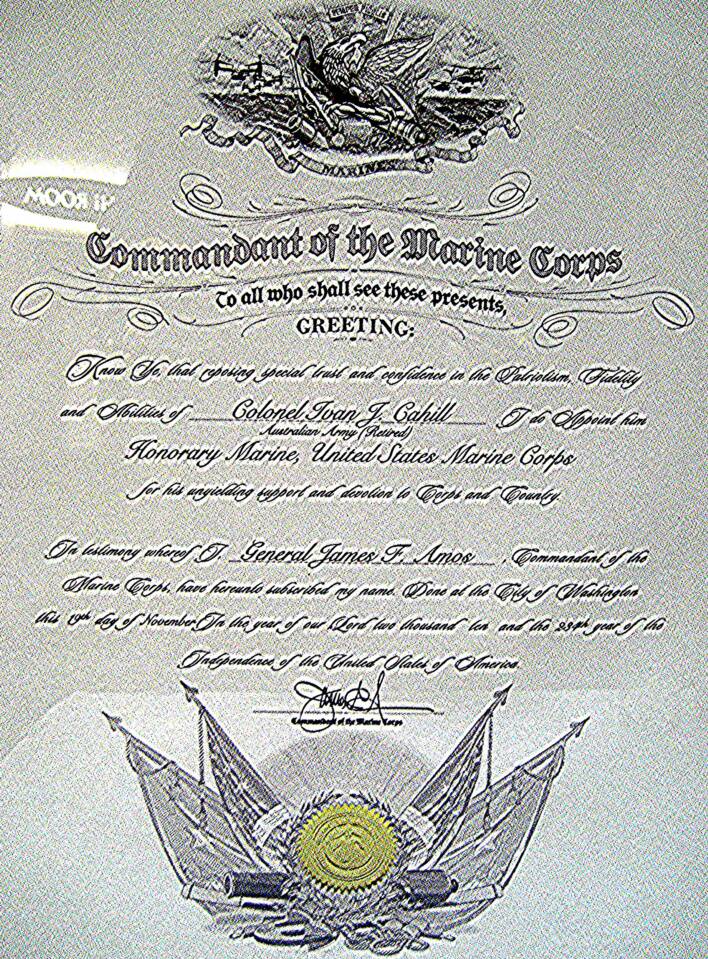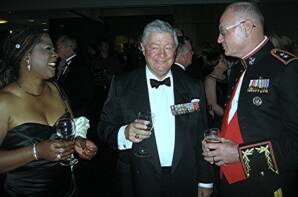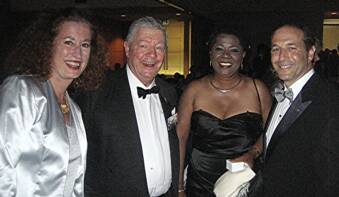 COL CAHILL & WIFE DELEITH WITH

3RD MARINE DIV. CG MAJ. GEN. LASTER

MRS IKINS, COL CAHILL & WIFE DELEITH

WITH U.S. AMB TO AUSTRALIA

JEFFREY BLEICH

Paul Marquis Web Master

& proud member of Echo Company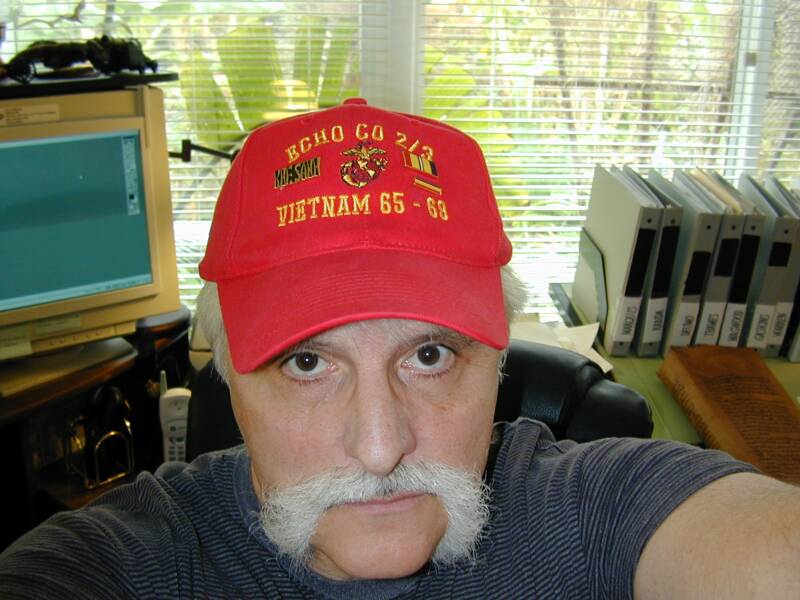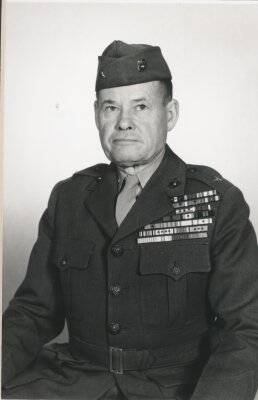 UNITED STATES MARINES

ARE YOUR BEST FRIEND OR YOUR WORST ENEMY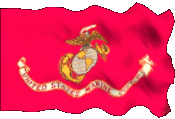 Retired Royal Australian Marine becomes honorary US Marine 

12/10/2010  By Cpl. Rebekka S. Heite,

Marine Corps Bases Japan

CAMP HANSEN, OKINAWA, Japan  — Retired Royal Australian Marine, Col. Ivan J. Cahill,  was awarded the title of Honorary U.S. Marine Nov. 19 for his conduct as the company commander of Company E, 2nd Battalion, 3rd Marine Regiment, 3rd Marine Division, from Dec. 1, 1967 to Dec. 31, 1968 during the Vietnam War.

"Wearing the title of United States Marine is challenging, rewarding and earned," said Maj. Gen. James B. Laster, commanding general, 3rd Marine Division, III Marine Expeditionary Force. "Therefore, after carefully considering and reviewing Col. Ivan J. Cahill's service to our (Marine) Corps, without a doubt, I recommend with utmost enthusiasm he be awarded the title of Honorary Marine."

Cahill served with the Marines in Vietnam from 1967-1968.

While with the Marines, Cahill was awarded the Bronze Star Medal with combat distinguishing device for leading the Marines during Operation Auburn in Vietnam from 1967-1968.

During the operation in the Dien Ban District, Quang Nam, Republic of Vietnam, Cahill moved the company out of the landing zone to assault positions, preparing to attack the assigned objective, according to the citation. Almost immediately upon landing, the company began receiving small arms and automatic weapons fire from both the front and flank.

"Capt. Cahill, with extraordinary coolness and tactical acumen, deployed the Marines under fire to meet this unexpected threat to the operation and for the next several hours, he directed not only the company's fire power, but the use of air and artillery support."

Cahill didn't stay in a fighting hole during this battle.  Instead, without regard for his own safety he "… courageously moved about the battlefield, encouraging the Marines of the company in their action against the enemy," according to the citation.

As the only foreigner to have direct command of an American rifle company in combat, the battlefield isn't the only place that Marines wanted to be near Cahill.

"His manner of saluting, flat palm of hand facing forward and brought crisply to his hat-brim, reverberating slightly as it snapped to a stop in the British manner, cased whole groups of young Marines to deliberately cross his path so that they could salute him and then watch the spectacle of his return salute," according to Mark Woodruff on www.diggerhistory.info.

"(Cahill) epitomizes camaraderie and esprit de corps," said Laster. "He has lead and inspired Marines not only in a combat zone as a U.S. Marine Corps company commander, but continues to strengthen the bond between Australian and American service members."

"To this day, over 40 years after his service, veteran Marines are unstinting in their praise of both his personal courage and combat leadership," said Laster. "He has proven himself to be a leader of Marines."

Cahill is one of only five people to be awarded this honor in 2010.