ECHO COMPANY

2ND BATTALION 3RD MARINES

VIETNAM VETERANS ASSOCIATION

65-69

*************************************************

2009 REUNION - 8th ANNUAL REUNION

JACKSONVILLE, NORTH CAROLINA

HOME OF

MARINE CORPS BASE CAMP LEJEUNE

SEPTEMBER 23 THROUGH SEPTEMBER 27, 2009

*****************************************************************

ACCOMMONDATIONS:

FAIRFIELD INN & SUITES




              121 CIRCUIT LANE




                 JACKSONVILLE, N.C. 28546




               910-938-4499

RATE:



   $104 + TAX

CUT OFF DATE:

      SEPTEMBER 9, 2009

*MENTION VIETNAM VETERANS WHEN MAKING RESERVATION*

COST:

$150.00 PER COUPLE - $75.00 PER PERSON
    MAKE CHECK TO: "VIETNAM VETERANS ECHO 2/3"

SEND TO:      DON HINMAN





261 PITTS ROAD





  CATAWBA, S.C. 29704
WEDNESDAY – REGISTRATION AND HOSPITALITY

THURSDAY – REGISTRATION – ON YOUR OWN

FRIDAY - ½ DAY TRIP VISITING CAMP LEJEUNE AND BASE PX

SATURDAY – ON YOUR OWN UNTIL THE BANQUET AT 6:00PM. ANYONE WITH SPECIAL DIET NEEDS MUST CONTACT JOHN ELLER AT 910-326-5419.







Camp Lejeune and Onslow County have come a long way since September 1941 when the 1st Marine Division set up camp in the middle of a sandy pine forest along the Atlantic Seaboard.

Units have trained and deployed around the globe to keep the peace and fight wars.  A tobacco barn, farm house and temporary tent cities have grown into a 244-square mile premier military training facility.  A bond has grown among the Marines, sailors, Coast Guardsmen, family members, military retirees and civilians who have planted the seeds that are making Onslow County grow at an unprecedented rate.

The Camp Lejeune story began in 1940.  World War II had been raging in Europe for more than a year and military planners were posturing forces for America's eminent entry to the fight.  The need for an East Coast amphibious training facility was answered as the Department of the Navy purchased an initial 110,000-acre tract of land.  With close proximity to ports at Wilmington and Morehead City, Lejeune was a logistical gem.  When planners added the remote pine forests and miles of beach, the value of Camp Lejeune as a home training base for Marines was unbeatable.

On May 1, 1941, Lieutenant Colonel William P.T. Hill was ordered by the 17th Commandant, Lieutenant General (then Major General) Thomas Holcomb, to establish and assume command of the base, then known as Marine Barracks New River, N.C.  His original headquarters were set up in an old farmhouse located at the Tent Camp (now Camp Geiger) and eventually in August 1942 it was moved to Building 1 at Hadnot Point, where it remains today.

Near the end of 1942, the base was named Marine Barracks Camp Lejeune in honor of the 13th Commandant and Commanding General of the 2nd Army Division in World War I, Major General John A. Lejeune.  In 1944, it was renamed Marine Corps Base Camp Lejeune.

The value of this land to the Marine Corps has grown over the years as men and women have trained to fight wars in the Pacific Islands, Korea, Vietnam, Kuwait, Afghanistan and Iraq.  Camp Lejeune has also proven invaluable for the training and deployment of Marines for such actions as peacekeeping in Lebanon, tactical recovery of aircraft and personnel missions, drug interdiction missions and a host of noncombatant evacuation operations.  The idea of Special Operations Capable Marine Expeditionary Units was born at Camp Lejeune and Marines here continue to make strides toward the future of warfare in such areas as urban and riverine operations.  Camp Lejeune and the satellite facilities at Camp Geiger, Camp Johnson, Courthouse Bay, Stone Bay and the Greater Sandy Run Training Area have an historic value that goes beyond their national strategic importance.

Camp Johnson, which now plays a crucial role in the follow-on training of thousands of Marines every year, was the first training base for black Marines.  Originally known as Montford Point, black Marines attended boot camp here while the nation was still racially segregated.  After the walls of segregation came down, it was named in honor of Sergeant Major Gilbert H. "Hashmark" Johnson in 1974 and Marine Corps Combat Service Support Schools was located there.  Outside the gate of Camp Johnson stands a solemn tribute to Marines and sailors who gave their lives keeping the peace in Lebanon.  The Beirut Memorial is the site of an annual commemoration of the tragic October 1983 bombing of Battalion Landing Team 1/8's headquarters in Beirut.  A visit to the Jacksonville area isn't complete without a stop at this memorial.

Camp Geiger is a vital training center unto itself.  With more than 24,000 Marines undergoing Marine Combat Training at the School of Infantry every year, it is a hub of activity that mirrors the original days in 1941 when the 1st Marine Division prepared to ship-out to the Pacific.  Entrenched into the Marine warrior ethos is "every Marine is a Rifleman," and it is at Camp Geiger where Marines learn and develop their warfighting skills before they attend their secondary schools to learn their military occupational skill.

To help prepare warfighters for combat and humanitarian missions abroad, Camp Lejeune takes advantage of 156,000 acres, 11 miles of beach capable of supporting amphibious operations, 34 gun positions, 50 tactical landing zones, three state-of-the-art training facilities for Military Operations in Urban Terrain and 80 live fire ranges to include the Greater Sandy Run Training Area.  Military forces from around the world come to Camp Lejeune on a regular basis for bilateral and NATO-sponsored exercises.

The base and surrounding community is home to an active duty, dependent, retiree and civilian employee population of nearly 150,000 people.  The base generates almost $3 billion in commerce each year, coming from payrolls and contracts to support the structure required to train and equip our modern Marines.

Some services available aboard Camp Lejeune include: childcare, shopping, education, family support, hunting and fishing, dining, boating and swimming.

Some facilities on base include banks and credit unions, the commissary, the library, hobby shops, fitness centers, the beach, theaters and more.

From the supporting infrastructure, a tradition of excellence in doing day-to-day business has evolved.  From environmental programs that include a state-of-the-art landfill and water treatment system to quality of life programs that ensure Marine families are taken care of, Camp Lejeune stands out as a superior military base.

Camp Lejeune is a five-time recipient of the Commander-in-Chief's Award for Installation Excellence.  This award recognizes the base on a Department of Defense level for effectively managing assets and developing quality programs to accomplish the mission of providing expeditionary forces in readiness.  The Marines, sailors, Coast Guardsmen and civilian Marines who provide for the efficient management of Camp Lejeune's assets strive to ensure even grander goals are realized in the future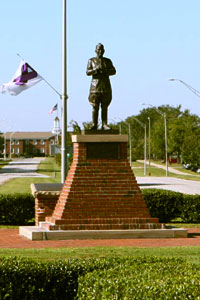 PAUL MARQUIS

   WEB MASTER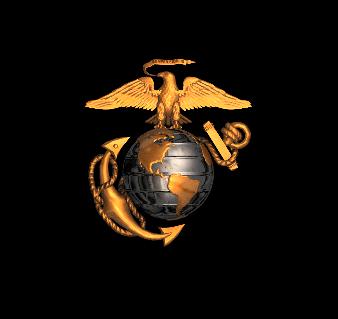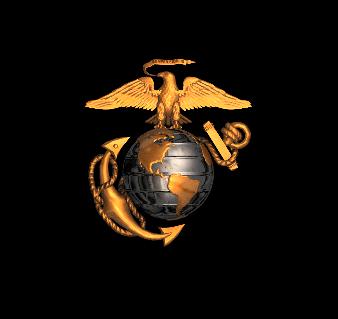 Major General John A. Lejeune

13th Commandant

Echo Company 2/3 Reunion Information

Jacksonville, North CarolinaOnslow CountyActivities, Points of Interest, Attractions

Our host and reunion chairman, John Eller, has provided the following information for our members so we can enjoy our stay in Jacksonville.  All of the below listed activities, points of interest, and attractions are located in Jacksonville or in the immediate surrounding area.

The Albert Ellis Airport is about 25 miles from the host hotel.  John is trying to attain shuttle service from the airport to the hotel but this has not been acquired as of this writing.  Rental car and taxi service is available.  The hotel is in an area loaded with restaurants within walking distance.  The Jacksonville Mall is about a one mile, good exercise, walk from the hotel.

Dining – Ruby Tuesdays, Logan Roadhouse, O'Charley's, Outback, Hardees, Texas Roadhouse, Waffle House, Shogun, Olive Garden, Tony's Seafood and Mi Cabana.

Activities – Antique stores, Art Galleries, Fishing Charters, and Horseback riding just to name a few.

Museums – Onslow County Museum, Montford Point Marine Museum, and the Missiles and More Museum.

Memorial and Historical Sites – Beirut Memorial and the USO in Jacksonville, N.C. Est. in April 1942 and has been open everyday since.  Please pay them a visit and thank them.

Now for you landlocked Marines, take a morning or afternoon stroll on the many beaches within driving distance of our hotel.

Please remember that John Eller will assist any member requiring special needs or diet items.  He needs advance notice so don't wait until the last moment to tell him. John's email address is – jeller@marinefederal.org. Echo Marines driving to the reunion please contact your local businesses, friends, or military organizations for some type of raffle prize. We will be having a raffle of items at the banquet and also a ticket drawing where the winner will receive 2010 reunion admittance. This is worth at least $150.00 maybe more. Tickets for the ticket drawing will be sold Thursday, Friday, and Saturday prior to the banquet.

See you in Jacksonville, September 23 thru 27, 2009.




1.   Ed & Susan Beck

2.   Jim, Lonnie & Betty Cannon

3.   Don & Sandy Hinman

4.   Robert W. Hofeldt

5.   George & Mary Ann Sternisha

6.   William W. Witmier & Joyce Stoudt

7.   Jedd & Peggy DePope

8.   John Lawless & Shirley Johnson

9.   Paul Ruh

10. Bobby & Ellen Farr

20. Sheila Phifer & John Splittorf

21. John Eller

22. Jim Renfro

23. Bill "Smitty" & Sharon Smith

24. Martin & Lynette Patton

25. Robert & Joyce Foreit

26. David & Barbara Patterson

27. Fred & Carole Monahan

28. Dianne Phifer Delaney

29. Donnell A. Mann Sr.Gregory Hynes (Guest)

30. Dennis F. Scheall

31. Mike Shope

32. Tom & Pat Hutton

33. Allen White

WHO'S GOING TO THE REUNION: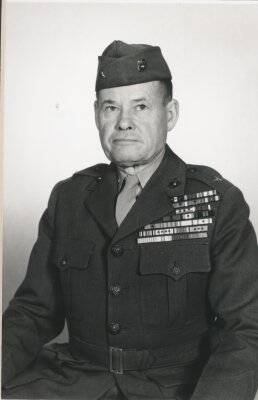 CHESTY SAY'S

"WHEN IN DOUBT .... EMPTY THE MAGAZINE"