PARROTT, LEE R.

Gunnery Sergeant, U.S. Marine Corps

2d Battalion, 3d Marines, 3d Marine Division (Rein.) FMF

Date of Action: August 10, 1969

Citation:

The Navy Cross is presented to Lee R. Parrott, Gunnery Sergeant, U.S. Marine Corps, for extraordinary heroism while serving as Commander of the 81-mm. Mortar Platoon, Second Battalion, Third Marines, Third Marine Division (Reinforced), Fleet Marine Force, during operations against enemy forces in the Republic of Vietnam on the early morning of 10 August 1969. When his platoon was subjected to a heavy ground attack by enemy troops who penetrated a section of the platoon's defensive position and wounded several Marines, Gunnery Sergeant Parrott rushed to the beleaguered sector and, opening fire with his rifle, succeeded in accounting for several enemy casualties. Despite the fierceness of the enemy fire attack, he reached the forward fighting positions, directed his men to secondary defensive positions, and then aided the wounded Marines to rear locations. All the while he continued firing at the invaders with his free arm while assisting the casualties with his other arm. As a result of his valiant and inspiring leadership in a potentially chaotic situation, the Marines effected a vigorous defense and repelled several ground attacks. Following the retreat of the defeated attackers, Gunnery Sergeant Parrott led his men outside the defensive perimeter to secure the area and to evacuate all casualties. While he was thus engaged, the area came under hostile mortar fire. Although wounded by one of the first mortars to explode in the area, Gunnery Sergeant Parrott skillfully adjusted supporting counter mortar fire on suspected enemy positions and continued to direct the removal of other casualties to a more tenable landing zone while he remained to provide rear- guard security. By his heroic actions, aggressive fighting spirit, and determined efforts in the face of seemingly overwhelming odds, he was directly instrumental in saving the lives of several fellow Marines, thereby upholding the highest traditions of the Marine Corps and the United States Naval Service.

Authority: Navy Department Board of Decorations and Medals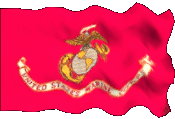 LEE PARROTT

U.S. MARINE CORPS

AWARDED NAVY CROSS