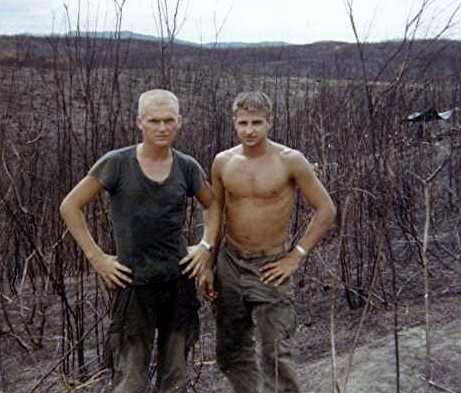 Don Hinman & unknown Echo Marine

living in the effects of Agent Orange, which was typical of Marines serving in the DMZ.

                            AGENT ORANGE STUDY

New Study Strengthens Association Of Prostate Cancer With Exposure To Agent Orange

Science Daily 5-16-2008 American Urological Association.

ScienceDaily (May 16, 2008) — As men age, their risk of developing prostate cancer increases. Aging Vietnam veterans are giving researchers new opportunities to solidify the connection between in-country exposure to Agent Orange and subsequent prostate cancer development. In a study presented during the Annual Scientific Meeting of the American Urological Association (AUA) in Orlando, researchers presented data from a large study of veterans enrolled in the Northern California VA System, examining prostate cancer incidence and disease characteristics in those exposed to Agent Orange compared to those who were not exposed.

More than 13,000 Vietnam Veterans were divided into two groups based on their exposure to Agent Orange. Twice as many men exposed to Agent Orange were identified with prostate cancer. Agent Orange-exposed men were also diagnosed younger and were more likely to present with aggressive or metastatic disease. Other prostate cancer risk factors – race, body-mass index (BMI) and smoking – were not statistically different between the two groups.

This increased evidence suggests that exposure to Agent Orange should be considered a risk factor for developing prostate cancer, similar to African-American heritage or a family history of the disease.

About Agent Orange:

Agent Orange is a combination of two synthetic compounds known to be contaminated with the dioxin tetrachlorodibenzo-para-dioxin (TCDD) during the manufacturing process. Named for the color of the barrel in which it was stored, Agent Orange was one of many broad-leaf defoliants used in Vietnam to destroy enemy ground cover. It is estimated that more than 20 million gallons of the chemicals, also known as "rainbow herbicides," were used between 1962 and 1971; approximately half of the herbicides were Agent Orange. In 1997, the International Agency for Research on Cancer re-classified TCDD as a Group 1 carcinogen, a classification that includes arsenic, asbestos and gamma radiation.

Journal reference:

Chamie K, deVere White RW, Ellison LM: Agent Orange exposure, Vietnam War veterans and the risk of prostate cancer. J Urol, suppl., 2008; 179: 149, abstract 421. [link]

Adapted from materials provided by American Urological Association.

More info:

          Paul Marquis

      Your Web Wizard